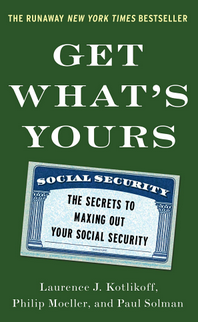 If your retirement is 10-years away or sooner, you'll want to read, Get What's Yours - The Secret To Maxing Out Your Social Security by Laurence Kotlikoff, Philip Moeller and Paul Solomon
One of the most overlooked elements of preparing for a successful retirement is deciding when to start drawing your Social Security. If you're a married couple, the decision becomes even more complex.
Up until recently, the majority of people, usually by default, either started collecting Social Security at their full retirement age, early, at age 62, or waiting if possible until age 70. Simple on the surface right, three relatively easy choices.
Guess what. There are dozens of Social Security strategies that most people are unaware of. And remember, in the game of money, strategy is king.