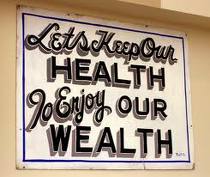 The best investment you can make this year is an investment in your physical well-being, your health. As life gets busier and more demanding, taking care of your mind, body and spirit often gets put on the back burner. Yet health must always come first. There is absolutely nothing more important or vital than your health.
Health is wealth.
I see the stress people are carrying around these days and it concerns me. And as you might imagine, one of the major stressors is money. Worrying about money causes stress that wreaks havoc on your body over time.
I was fortunate to launch my financial planning practice by offering free financial wellness classes at the Integrative Medical Clinic in Santa Rosa, CA. Thanks to Robert Dozer, MD, medical director of IMC, he saw the value of discussing the link between financial stress and health and provided me an opportunity to inform and empower my community on ways to manage and deal with their money worries.
And now, 9 years later, I'd like to remind anyone reading this blog to remember this golden rule - without good health, nothing else matters. You could have all the money in the world, but without good health, it's just digits on a piece of paper.
Financial Independence
On the road to financial independence, it's so easy to get caught up in the hustle. You bargain and negotiate with yourself constantly, saying things like: I'll only need to work 80 hours a week for 4 years - but by then I'll be partner and life will be good. Or, when this start-up goes public, the 4 years of 80 hour work weeks will be worth it, regardless of the damage I do to my health.
Remember one thing, in the heated pursuit of money, we delude ourselves constantly. It's so easy to do. But if you are totally honest with yourself, you'll know how to set the right priorities, with health at the top of the list.
Your Money or Your Life
The title of the book, Your Money or Your Life, as Vicki Robin, my co-author and friend shared with me, came from an old Jack Benny bit. In that scene, he's being held up by a robber pointing a gun at his back. The robber demands from Benny, "Your money or your life!" Benny, in his usual comedic style, answers with the line, "I'm thinking about it…"
Unlike Jack Benny's comedic bit – always choose life over money. The return on this investment will be unmatched.
Financial Wellness for 2011
So as you look forward to the new year, take some time to reflect on your work/life balance. How's it going? Are you feeling in control of your life, your time, or does it feel like just the opposite? How is your relationship with your spouse or partner? If you have kids, when was the last time you spent some quality time with them?
If you're thinking about these questions but saying to yourself, well, easy for you to say Mark, you don't have the x, y or z to deal with, I respect that. Yet I would suggest that your work, your career should be a servant to your life, not your master. The same goes for money. Money should be your servant, not your master.
As we all head into 2011, promise yourself this is the year you'll take your health seriously. That you'll take an honest look at your work-life balance and make the changes that are necessary to come back into balance.
And here is a great place to start:
Dr. Oz - Know Your 5: Lifesaving Numbers You NEED to Know
For some of the best holistic medical guidance available, please check out Dr. Oz's The LifeSaving Numbers You Need To Know.