The following is a guest post by my friend and colleague, Diane Williams who along with her husband became FI (financially independent) after reading the book Your Money or Your Life. Their story is both inspiring and exciting and I would encourage anyone who wants to know more about how they achieved FI at age 50 to contact Diane.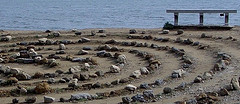 After reading Your Money or Your Life and starting the FI program in 1992, my husband Chuck and I reached Financial Independence at age fifty.
We're middle class folks - Chuck worked as a construction tradesman and I worked mainly in government finance. We never made over $100,000 per year and didn't inherit any money from our families. Chuck grew up in a low income household and I grew up in a household severely impacted by my parents' illnesses.
So much of our life together had circumstances beyond our control we focused on something we could control - our money. We realized that we could build wealth by living frugally and investing in blue chip stocks, so early retirement became our second jobs.
So I began studying for my CFP certification, Chuck studied investing and once I discovered Your Money or Your Life, I enthusiastically began following the FI program. We 'got' it that there are tradeoffs in life and were able to put off instant gratification.
Because Chuck was home only on weekends and our time together was very limited, we made good use of what little time we had by discussing our money, setting family goals and saving to achieve them. Our priority was freedom from paid employment in our fifties which helped us focus on jobs that paid well and provided good benefits. We learned to invest in the stock market for the long term.
As a side benefit, our mutual goal of retiring early helped us through some difficult times. Our progress, which was measured by a wall chart, was a positive, visual, forward moving step in our often challenging lives.
Our biggest success is reaching FI while raising two sons with special needs. We decided to have both live with us indefinitely, as long as they want to. I occasionally envy empty nesters and their freedom to travel at the drop of a hat, but when we're all together and laughing, it makes it all worth it. We have special needs trusts for them and the trustees know our wishes for their continued care after our deaths.
The best part of being financially independent is the freedom to spend our time as we wish. Chuck has re-connected with his passions for woodworking and studying about bridges. I've recently started my own financial consulting & coaching business to help others with their money issues. I use the helplessness I felt at a young age in knowing my father was dying and fearing we would not have enough money to live - and I'd like to use that memory to help others with their fears.
We love doing what we want to do when we want. Life is good!!!
You can reach Diane at www.dianewilliamsfinancialplanning.com
Photo credit FirecatSteph