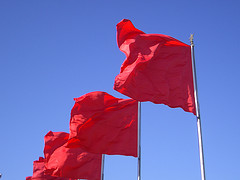 It's that time of year again - time to start thinking about taxes - and tax deductions.
Consumer advocate Clark Howard recently posted a list of the 12 red flags that will get you audited by the IRS, which is the short and sweet version of Kiplingers IRS Audit Red Flags: The Dirty Dozen. Both articles are must reads - if you are short on time, go to Clark's edited version - but if you have the time, check out Kiplingers article which goes into more depth and explanation. (don't miss the New Tax Changes for 2012 link at the end of the article - it's available on the Kiplingers site for $6.)

My 2011 blogpost on tax deductions is worth revisting - in it, you'll find relevant links including The Most-Overlooked Tax Deductions and if you are a business owner Business Expense Tax Deductions.
As an FYI, my background is in tax accounting, so if you'd like a complimentary consultation, don't hesitate to contact me through the link below.
Image credit RVW