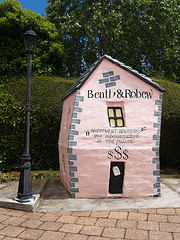 The public has received a hard earned education when it comes to finance and investing. The upside to the Bernie Madoff's of the world is that consumers are now becoming savvy and more informed about how they manage their hard earned money – and who they trust when investing it. I'd like to offer a little more education when it comes to choosing an investment advisor.
First, a couple of terms that need defining:
Wirehouses – Brokerage firms such as Morgan Stanley, Merrill Lynch, UBS Financial and Wells Fargo who hire commissioned brokers. (BTW – if these brokers don't reach their monthly sales goals, they are let go – so the incentive to sell is real – if they want to keep their jobs.)
Registered Investment Advisors (RIA's) Independently owned or professional advisory firms that offer personalized financial advice to its clients. Whether it's for retirement planning, your tax situation or estate planning, it's important that your advisor understand you and your goals. Independent RIA's typically charge a fee based on a percentage of total assets managed.
Fiduciary Standard of Care – The fiduciary standard requires advisors to put the best interests of the client first and to disclose all conflicts of interest. It is a commitment to provide the client with the highest level of care, integrity, full disclosure, loyalty, and good faith. A fiduciary (an investment professional required to adhere to the fiduciary standard) must make recommendations regardless of the amount of compensation he/she might receive that are in a client's best interest. The fiduciary standard of care is the strictest and highest standard in the industry.
Honest Comprehensive Financial Planning
Many wirehouse/brokerage firms claim to do financial planning but they are not really structured to handle it as effectively as an independent financial planner can. We independent planners recognize that our basic service offering is financial planning and not investment management. We know that structuring and managing portfolios, while important ingredients of a comprehensive financial plan, are not our 'bread and butter'. Clients want financial plans that consider their values, transitions and goals in many areas of their lives – or as I call it, holistic financial planning. Clients want updates on their progress and course corrections when needed. Brokerage firms use financial planning as a tool to sell products. Financial planners provide financial planning first, and then invest clients' money as part of their overall financial plan. See the difference?
Fees vs. Commissions
The new trend is in paying fees rather than commissions. Years ago, it was unusual for a prospective client to ask about product sales and the inherent conflict of interest that comes with that transaction, but now it's part of the initial conversation. Some financial advisors still earn commissions on products such as insurance and annuities, but savvy consumers are no longer interested in paying these extra charges.
Registered Investment Advisors vs. Commissioned Brokers
Most consumers don't understand the difference between a brokerage firm's "know your client" and a registered investment advisor's fiduciary duty to place the client's interests first and to disclose all conflicts of interest. If they did understand, I'm convinced that they would choose to do business with the advisor who, under the fiduciary standard of care, must legally adhere to the higher standard of care. As confusing as it may be for clients to understand the differences between a registered investment advisor and a commissioned broker, imagine how confused they must be when the same advisor acts as a fiduciary in some instances and in others acts as a broker. That is exactly what the commissioned broker from a wirehouse will do.
Communicating Reasonable Expectations
As a fee-only financial planner who is also a registered investment advisor – I don't claim to beat the market, avoid volatility and give clients above-average returns, because that is a promise that no one can keep. But the brokers in the wirehouse continue to make these promises, setting themselves up for failure and often losing the unhappy client who had unreasonable expectations presented to them. This begins the brokers sales cycle where they lose clients which adds the burden on them to attract new clients, to whom they make unreasonable claims, which they can't deliver on, which result in those new people leaving—and the cycle continues.
Clients deserve complete honesty in our ability to help them reach their goals. They rather be told the truth and have their expectations met rather than be promised the moon and be disappointed.
Delivering Outstanding Service
Probably the most annoying thing in any service profession is when a client has a difficult time getting their advisors to return their call or schedule regular updates. When you recognize that your client is your greatest asset, it makes no sense to play hide-and-seek with them. Wirehouses lose many clients because they are more interested in attracting new ones (to reach their quotas) than in retaining existing ones.
Personally, I would not have a business today if I didn't respect my existing clients – who in turn continue to offer me referrals as a result of their being happy with my services.
Image by Marcleh