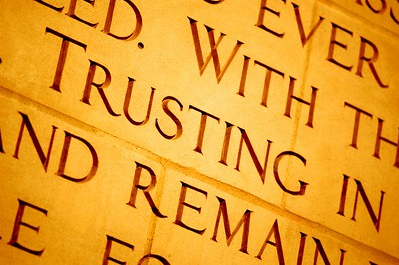 As I write this blog on Monday, February 24, 2020, the Dow is down about 900 points at mid-morning. Most analysts are pointing to the recent outbreak of the coronavirus in Italy and South Korea as spooking the markets, since this could set off a global economic slowdown. We shall see.
Now imagine, you retired at the end of last year and just started working with your financial advisor.
Your investments that need to last the rest of your life are now, you hope, in the capable of hands of your newly hired advisor, yet your relationship has just started and you have no idea yet how he or she handles this kind of turmoil in the stock market.
This scenario is all too common and needs to change, and here's why. Like all new relationships, it takes time to get to know each other and it takes time and experience to build a level of mutual trust.
Now you're probably thinking, hey wait, why does the advisor I just hired need to trust me? I need to trust him/her, not the other way around, right? Wrong.
Building trust in an advisor-client relationship is a two-way street. In a sense, it's not that much different than any other relationship you develop. Little by little, action by action, email by email, text by text, conversation by conversation, quarter by quarter, trust is earned, and trust is nurtured.
And before you know it, I trust you, you trust me, together we have built a level of trust that forms the foundation of a successful long-term advisor-client relationship.
Seek a Financial Advisor 2 years before you plan on retiring
Trust, above all else, is the most crucial element of a successful relationship with your advisor. Next comes a values match and of course, if these first two criteria are met, hopefully you like your advisor as well and enjoy your meetings and conversations.
In a survey conducted by State Street Global Advisors in 2017, clients ranked fees as the fourth most important factor they evaluate when choosing an advisor, and only 12% of clients ranked that factor as important. Put that next to "trustworthiness," which 69% of clients considered most important.
We all hire trusted advisors because we have decisions to make, and those decisions are often too big and too complicated to make on our own. How to manage and create a sustainable and tax efficient retirement income strategy being one of the most complicated decisions of all.
You may be thinking, well, I don't really need to develop a trusting relationship with a financial advisor before I retire, especially two years before I retire. I know I need help sorting all this money stuff out, but why do I need to pay them all the time?
Why not hire a doctor only when you are sick, or a consultant only when your company is struggling, or a financial advisor only when you run into a money problem?
Because even though that would be efficient, it could also be disastrous. We create ongoing relationships with professionals, so they get to know to know us well, and that knowledge turns into insight and sometimes life-changing decisions.
Assuming you're planning to hire a financial advisor once you retire, I strongly recommend hiring and developing a relationship at least two years prior to your retirement with a financial advisor.
This will allow you the time needed to get to know each other well and build the trust that is so important to a successful relationship.
And perhaps most importantly, when the very important, 'your money or your life' decisions come up, your trusted advisor is well prepared and equipped with the right information and is available to help you.
By the way, note how much I emphasize an advisor's knowledge, insight and availability, not our 'friendliness'. Clients do not pay financial advisors to be their friends. They pay us to be experts in our field and document everything there is to know about you and your money.
That is how we gain knowledge about you, your money habits, your money history and most important, to understand the many nuances of your relationship with money. That knowledge turns into insight. This all takes time and does not happen overnight.
Most financial advisors, including myself, are looking to build and develop long-term relationships with clients. The sooner you start building that relationship, the sooner you'll know if it's a good match or if you need to move on.
I'll admit, many of my clients have become close friends. We've taken the time to really get to know each other and built the foundation of trust that is required to maintain a highly successful advisor-client relationship as well as a friendship.
If you've been waiting or plan to wait to hire your financial advisor until you retire, just imagine, if today, with the stock market dropping close to 1000 points, was the first day your relationship started. As they say, good luck with that.
Photo credit by Steve Snodgrass