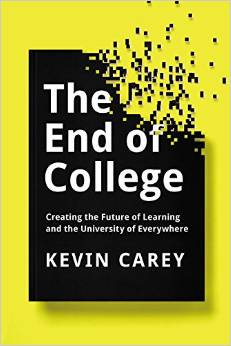 Kevin Carey, author of the new book, The End of College: Creating the Future of Learning and the University of Everywhere is a must-read for any parents of young children that hope and plan to send their kids to college.

Terry Gross, host of NPR's Fresh Air just had Kevin Carey on her show and the interview she conducted was fascinating on many levels.

If you're unsure how you're going to save enough by the time your kids are ready to enroll in college and or how much too actually save, then it's even more important you listen to this interview and check this very interesting book out of your local library and inform yourself further.

There's no question that making sure your kids have the best opportunity to succeed in the future is a major priority for parents. The most often asked questions that comes up over and over again when developing comprehensive financial plans for young parents regarding this subject are:

What will the future of education look like 15 years from now?

What will a 4-year college degree cost 15 years from now?

Should we put all our college savings into a 529 plan?

What happens if we fully fund a 529 plan over 15 years and our son/daughter decides not to attend college?

How will our income and investments impact our ability to receive financial aid?

Should we consider using student loans or saving enough to avoid any borrowing?

What are the best 529 plans currently available?

As if these questions are not challenging enough for parents to figure out, adding to this conundrum of what to do is Carey's new book which challenges the entire assumption of what college will look like in the future. Here are a few excerpts from his book:

"A lot of parents start worrying about paying for college education soon after their child is born. After that, there's the stressful process of applying to colleges, and then, for those lucky enough to get admitted into a good college, there's college debt."

"But author Kevin Carey argues that those problems might be overcome in the future with online higher education. Carey directs the Education Policy Program at the New America Foundation. In his new book, The End of College: Creating the Future of Learning and the University of Everywhere, Carey envisions a future in which "the idea of 'admission' to college will become an anachronism, because the University of Everywhere will be open to everyone" and "educational resources that have been scarce and expensive for centuries will be abundant and free."

"If only the rich can afford to go to the 'good colleges,' then we don't have a system of opportunity; we have a system of replicating privilege that already exists."

So does this book make the decisions parents face right now any easier when deciding the best course of action for their kid's college education? Nope.

Yet two things are for sure. One, we have no idea what the concept of college education will look like 15-20 years from now. And two, the global economy will be even more hyper competitive in the future than it is right now. Maintaining a high quality of life will be that much harder.

All that said, if nothing else, this book will generate lots and lots of discussions around the kitchen and financial planning tables, that's a given.

Carey does not claim to have a crystal ball that could predict the future. But he has done tons of research and devoted much time to pondering the future of college education. That research and higher education trends he sites alone make this book a great investment of your time.