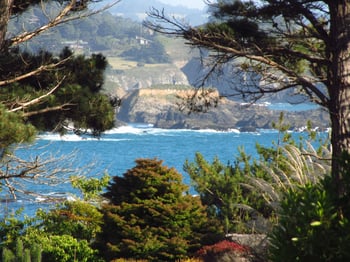 The way boomers define 'retirement success' is changing rapidly. The old model of 'success' - where your goal is to accumulate as much money as you possibly can by the time you reach the finish line, regardless of the stress and impact on your physical, emotional and spiritual health, well, that model is no longer sustainable.
One reason we give for allowing stress to build in our lives is that we don't have time or don't make the time to take care of ourselves. We're too busy chasing a phantom of the successful life and not knowing or not wanting to know when enough is enough in terms of how much needs to be saved for a secure financial future.
As a comprehensive financial planner working mostly with boomers, I have the good fortune to observe what's on a lot of clients minds in terms of their future dreams and desires once retired and financially independent. What most are seeking is the 'good life'.
Yet what is this oasis we call the 'good life' we all dream about and visualize once we retire? Somewhere along the way we abandoned that question and shifted our attention to how much money we can make, how big a house we can buy, how expensive of a car we can drive and how high we can climb up the career ladder.
Basically, our attention and focus in terms of preparing for retirement has been all about financial capital. That has been our metric in terms of measuring retirement success. That metric is no longer enough. Boomers, and especially my boomer clients, are disrupting the very notion of what retirement success used to look like and saying we want a different model. And that's music to my ears.
Course Correction
Sometimes it takes a serious health setback - the loss of a parent, a partner/spouse, other times it's a loss of a job, business, career, and sometimes it's a major financial setback that has you go back to the drawing board and ask yourself - what's the purpose/dharma of my life?
It's usually at these pivotal turning points in life when a boomer that might have been hesitant to reach out to a financial planner in the past, for a variety of reasons, finds the courage to pick up the phone and decide somehow, someway, a course correction is needed in my life. Can you help me with that?
The reason many financial planners, including myself, approach financial life planning on a holistic level is so we can go deeper into a discussion of your money and your life. How is stress impacting your quality of life? Do you go to work feeling inspired or dreading another day at the office? Are you making a living or a dying? How much is enough? Obviously these are not stock and bond questions, yet questions like these are at the core of why the definition of 'retirement success' is changing rapidly.
One of the best kept secrets in the world of comprehensive financial planning is how powerful the capabilities of financial planning software has become. What used to pass for a financial plan, which was nothing more than a one-size fits all report full of graphs and irrelevant data, has been replaced with a new generation of scenario modeling software.
With this cutting edge planning software, modeling what-if scenarios is now becoming the default standard in the financial planning profession. Although there are still plenty of Wall Street firms fooling clients with these cookie cutter 'financial plans', their days fortunately are numbered as consumers demand a higher level of customization and comprehensive financial plans.
Health is Wealth
What's the number one question I'm asked when a client that fits the profile above comes into my office? How soon can I retire?
Usually there's been a major life event as I mentioned above that prompts that question. Sometimes it's turning 50 or 60 that knocks you off of life's auto-pilot as well. And other times it could have been a long awaited vacation, where you actually had enough time to decompress and think clearly again and realize the life path you're on no longer aligns with your core values.
Whatever the reason is that creates the burning desire to shake up the status quo of your life and consciously and intentionally make a shift, I say bravo! If not now, when? And as Mark Twain said so well:
Twenty years from now you will be more disappointed by the things you didn't do than by the ones you did do. So throw off the bowlines. Sail away from the safe harbor. Catch the trade winds in your sails. Explore. Dream. Discover.