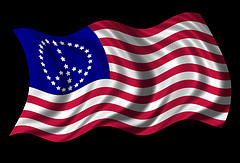 No, this is not an oxymoron. Over 200 people that make over one million dollars per year are asking, practically begging, the leaders in Washington to raise their taxes. I have never seen anything like this in my life.
To counter the image that most if not all wealthy people are greedy and only care about their own self interest, this group of citizens are determined to shake things up and let us all know that they deeply care about the social contract we have with all our fellow citizens and that they are deeply passionate about our collective common good.
This type of bold action by people that easily have enough wealth to ignore the plight of those less fortunate inspires me greatly. It takes courage and lots of it to step out into the spotlight and take a stand. Bravo to this group for their leadership and bravo to Warren Buffett for taking the lead early on and spotlighting the unsustainable inequality in our society.
You can visit and support this group at their website: Patriotic Millionaires For Fiscal Strength and watch a recent segment from the Lawrence O'Donnell show The Last Word that featured this group holding a press conference yesterday in Washington, DC: The Last Word.
Flag photo by BeverlyPack