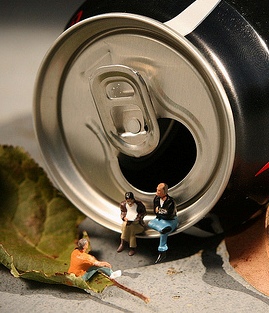 Exit From the Bond Market Is Turning Into a Stampede."
That was the headline of an article that appeared in the New York Times Deal Book section on June 24th and needless to say, it grabbed my attention.
About a week before the article was published, Wed, June 19th to be exact, Federal Reserve Chairman Ben Bernanke suggested that "the strength of the economic recovery might allow the Fed to slow down its bond-buying program".
As a result of this positive news, interest rates rose sharply in anticipation of the Fed tapering their $85 billion per month asset purchase program, known as QE3. And with bond funds, remember, when interest rates rise, the price of your bond fund declines. it's an inverse relationship that confuses most people.
But back to the shrinkage…
Much better than I could ever attempt to explain the recent erratic behavior of the bond market, here are some key excerpts from the article in case you want a quick summary of the highlights and a little further insight into what's going on with bonds, yet please check out the full article as it will help you further understand how the opaque bond market does it's thing.
"A bond sell-off has been anticipated for years, given the long run of popularity that corporate and government bonds have enjoyed. But most strategists expected that investors would slowly transfer out of bonds, allowing interest rates to slowly drift up."
"The selling has been most visible among retail investors, who have sold a record $48 billion worth of shares in bond mutual funds so far in June, according to the data company TrimTabs. But hedge funds and other big institutional investors have also been closing out positions or stepping back from the bond market."
"The recent rout follows several years of generally falling interest rates and comfortable bond returns. The belief that the Fed was likely to maintain its stimulus into the foreseeable future caused many investors to continue piling into bonds, even through the first few months of this year. TrimTabs estimates that $1.2 trillion flowed into bond funds over the last four years. "The fact that we're seeing these violent moves is a reflection that there was leverage there," George Goncalves, a fixed-income strategist at Nomura, said."
Sticking to your Investment Strategy
Given all the recent turmoil in the bond market, you might be tempted to sell your bond funds, especially if you were invested in some of the more high risk, high return bond funds and especially if your funds are currently below cost. And if your decision is based purely on emotions, please think long and hard before making a tactical move like that to your long term investment strategy.
What you want to be careful not to do when you see your bond funds losing value in such a short period of time - is react emotionally and sell at a low point out of fear or panic. Assuming you're a long-term investor, you know the financial goals you're looking to achieve, there was a reason you allocated a portion of your investments to a diversified bond fund portfolio. You were seeking a balanced, well diversified portfolio that would reasonably grow over time.
Summing Up:
If you're holding bonds as part of a long-term asset allocation, rate changes are rarely a good reason to change your investment plan. In fact, as long as you reinvest your interest income (or invest new cash) higher rates can enhance your long-term total returns. And if you're investing for income, rate changes won't make much difference in the dollar amount of a fund's income distributions, at least in the near term.
What about getting out of bonds before rates rise further, then getting back in after rates have settled?
That approach sounds good in theory, but in reality rate changes are impossible to predict with accuracy. The best reason to take action is if you discover that your bond fund no longer fits your needs.
Whether interest rates are rising, flat, or falling, the same principle should govern all your investment decisions. Know how each investment fits into your plan and why you own it. If you can answer those questions, rate changes are just part of the markets' daily spectacle.
Increase Your Financial Intelligence
If the spirit moves you this summer, and you have a little extra time to brush up on your personal finance 101 knowledge base, please check out Vanguard's spiffy new MoneyWhys-Education and news center website. It's jam packed with valuable guidance, tips, research, you name it.
And keep in mind, it's never too early or too late to increase your financial intelligence. Knowledge is power.
Photo credit http://www.flickr.com/photos/leighjmarriner/