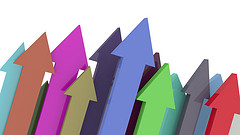 Who could have guessed back in January that Vanguard stock mutual funds would have performed as well as they have year to date?
So far so good. Of course, there's three months left in the year; we have the Presidential debates and election still to happen, no clear picture on whether we're going to 'go off the fiscal cliff' come January, and a slew of other economic events to be concerned about.
That said, keep these thoughts in mind as well.
Consumer confidence is on the rise. That's huge news because remember, we the people make up approx. 70% of our GDP, our economy, in terms of our spending. So if we're feeling more confident about the future, we'll be more inclined to make the leap of faith and purchase a new home for example.
In the past 12 months, average home values across the country have increased over $1 trillion dollars, yes, trillion. In just the past month alone, nationally, home prices have increased by 8%. The 'wealth effect', meaning you feel wealthier when you have more equity in your home, at least for the moment, looks like the wealth effect is kicking into high gear. That's another confidence booster for people.
On Monday, the Institute of Supply Management (ISM) reported the first increase in manufacturing output since May of this year. The ISM number is one of my favorite metrics to watch when assessing the health of the economy.
People are refinancing their mortgages in record numbers. With a lower interest rate comes lower monthly payments and higher cash flow at the end of the month. American's have paid off debt like it's nobody's business since 2008 and in my opinion, lots of folks are looking to balance things out a bit and do a little old fashioned spending on fun stuff.
The Federal Reserve has openly declared they will keep interest rates low, like near zero low until 2015. Secondly, Federal Reserve Chairman Ben Bernanke has said he will keep vigilant about spurring on the economy by implementing further bond purchases. As a fan of Paul Krugman, this news was music to my ears. That said, many economists believe Mr. Bernanke is 'encouraging' investors to place more of their assets into riskier investments and attempting at the same time to have inflation begin to rise.
(Here's an interesting tidbit - Mr. Bernanke focused his graduate school work and his Ph.D on the great depression and that he and his counter-part in Europe, Mario Draghi, President of the European Central Bank, were classmates in graduate school.)
And finally, the stock market has performed quite well this year. With the S&P 500 Index at close to 15% year to date, the Nasdaq at close to 20% and the DJIA at nearly 10%, investors are feeling pretty good. Keep in mind, the stock market is a leading indicator and the unemployment rate is a lagging indicator. It's another good metric to use when taking the pulse of the economy.
Below are the top 10 Vanguard stock and bond mutual funds in terms of performance year to date: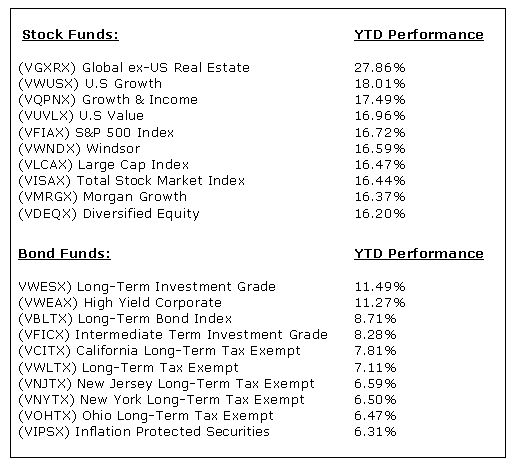 All investing is subject to risk, including possible loss of principal. This is not to be construed as advice or as a recommendation. For informational purposes only.
Photo credit http://www.flickr.com/photos/61423903@N06/