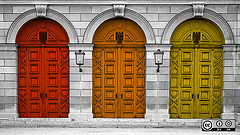 When considering the retirement alternatives out there - people are getting more and more creative in their thinking. Karen DeMasters outlines some other options you may not have considered, including what is known as a '"transitional strategy', in an article she wrote that appeared in the most recent Financial Advisor magazine.
In laying out a case where when approaching retirement, one has to balance both time and money, the article states, "T. Rowe Price believes that even if you both work part-time in your 60's while you begin playing, the financial benefits may be significant, or, in some cases a couple may choose to have one spouse retire while the other continues working." It's not often you read an article about retiring with the phrase 'funding your fun' in it.
Here's the article titled, "Some Boomers May Choose Door No. 3" which illustrates how this approach might work - enjoy.
Photo by Opensourceway