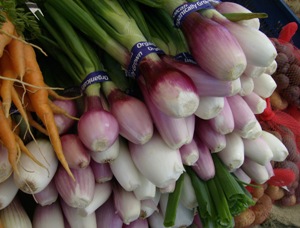 In my neck of the woods, with the arrival of spring comes the amazing abundance of certified organic farmers markets. In the Bay Area, we are blessed with some of the finest artisan foods a region can offer. As a society we are beginning to understand that the well-being of a region depends on our relationship to our soil and our local food producers. So when it comes to voting with your dollars, one way is to buy your food direct from the farmers that grow it.
Socially Responsible Investing (SRI)
Another way to vote with your dollars and at the same time align your money with your values is by choosing socially responsible investments. Many investors invest their money using only or mostly socially responsible investing options. There's no doubt that investing in green businesses and socially responsible mutual funds provide you the satisfaction of aligning your values and deep seated principles with your money. Yet, where that money goes exactly, who receives direct vs. indirect benefit, investment fees, monthly statements…before you know it, that warm and fuzzy feeling you received when you initially purchased that green mutual fund is soon gone.
Still, for a vast amount of investors, voting with your dollars and values is a superb option to have. Yet stipulating that socially responsible investing is indeed a values and money match, I'll illustrate aligning your money with your values by using the local farmers market as an example of voting with your dollars - and your values.
Investing in Your Community by Keeping it Local
Supporting your local farmer or community supported agriculture program - CSA is an additional way to vote with your dollars and your values. If you believe in organic and sustainable farming practices, instead of buying your produce at Whole Foods or other supermarkets, think about going a little out of your way and spend your money locally. Your dollars will support local farmers that depend on your purchases for their livelihood and the money you spend stays and is invested in, your community.
If you're a frequent visitor to farmers markets, you know how great it feels to hand your cash over to the local farmer that just grew and picked the food you'll soon be consuming. When you start up a conversation about how you plan to cook the fresh harvest of food you just purchased, see if that warm and fuzzy feeling doesn't kick in immediately. Not only are you supporting your community and planet by shopping for your food locally, you're making a conscious decision about your values and your money. Soon you'll feel that sense of gratitude as well for the farmer that grew the food that keeps you healthy and thriving.
Above all, eat with the awareness that with every bite, you are choosing the direction this nation takes as it feeds itself. Vote with your dollars and your values-because the opportunity to change the world is right on your plate.
photo by Pat Chiappa