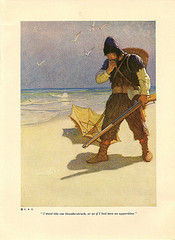 Trent from The Simple Dollar has written a post called Robinson Crusoe and Our Journey which I had to share with you. This post inspired me to re-read Daniel Defoe's classic book Robinson Crusoe – so right off the bat, thanks Trent, for the reminder of this not-so-childhood classic.
Trent says the book struck a chord because of his recent journey which appeared to have been about money, but was so much more, in his words, "rethinking what's actually important to me." So often this journey is the springboard to discovering what one's relationship with money really is. As a holistic financial planner, I constantly question clients on what it is they absolutely need, what their values are, and as Trent mentions, what is actually important to them.
Prospective clients sometimes come to me with very specific ideas for their future, in other words, they know exactly what they want and just want my help and expertise in getting there. But as we dig deeper, asking the questions that challenge their assumptions, we often find variations on their original goals.
Where they thought that 'building their dream home' was a top priority, a client may discover it was an old stale ideal that has been kicking around more out of habit than anything else. Sometimes when you and your spouse identify and set a goal, but don't revisit it in a sincere way, you can find that one of you are no longer interested in that particular goal. Communicating about present needs and desires are crucial in a relationship and in financial planning. The last thing you want is to find yourselves looking at each other after the fact saying, "but I thought YOU wanted this?"
The concept of 'retiring early to have more time to travel' sounds like a great idea, but most people are rarely ready for drastic changes such as going from an exciting busy career with structure, goals and timelines to long, endless days of free time. Faced with this - most people honestly don't know what to do with themselves and will transition more successfully by moving from full-time to part-time work/volunteering initially.
I don't ever dismiss or minimize a client's dreams or goals – but I do ask them to examine them closely. And once we get through that process, of either tweaking, changing, re-creating, or re-evaluating what is usually an originally brilliant idea – I lead the way in the adventure of making it happen for them.
Can you see why I love my job?
Crusoe photo by Le Petit Poulailler