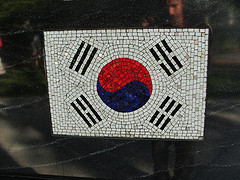 When it comes to investing in Asia, China still gets most of the attention. China continues to attract more investors that any region in Asia, yet, there's a hidden gem in Asia, namely South Korea, that I believe warrants your attention.
Economic growth remains strong. South Korea's exports are expected to grow by 11.9%. This is also one of the most wired nations in the world - 95% of homes have broadband, compared with 58% in Germany. South Korea's economic partnership with China is strong and growing stronger. China now accounts for about 25% of South Korea's exports.
Going Green - A Smart and Sustainable City
What has me perhaps the most excited about South Korea is their upcoming Songdo Sustainable City project. Being described as "one of the worlds greenest cities" the shear scope of this project is breathtaking and visionary.
" Songdo IBD is also part of the LEED-ND (Neighborhood Development) Pilot Program. The LEED-ND program emphasizes neighborhood connectivity, access to transit, energy efficiency in building design, efficient infrastructure design and the provision of open space and habitat for residents of all kinds. It builds upon the principles of New Urbanism and aims to promote the incorporation of positive planning aspects into local and municipal zoning codes focused on Smart Growth, Transit Oriented Development and Green Growth."
Investing Options in South Korea (source: seekingalpha.com)
South Korea ETFs: Although there aren't many South Korean companies listed on exchanges in the United States or European Union, investors can still take part in South Korea's economic rise through iShares ETF South Korean Index Fund (EWY): The exchange-traded fund holds shares in roughly 100 of South Korea's largest companies.
IQ South Korea Small Cap ETF (SKOR), which focuses on small-cap South Korean companies like Kumho Industrial and Daum Communications Corp.
The market cap-weighted Index seeks to provide investors with a means of tracking the overall performance of the small capitalization sector of publicly traded companies domiciled and primarily listed on an exchange in South Korea.
Expense Ratio: 0.79%
PowerShares FTSE RAFI Asia Pacific ex-Jp (PAF): The Index is designed to track the performance of the largest equities of companies domiciled in the Asia Pacific region (excluding Japan) and allocates 33.8% of its assets to South Korea.
Expense Ratio: 0.80%
iShares MSCI Asia excl Japan (AAXJ): The index measures the performance of 11 developed and emerging equity market and allocates 20% of its assets to South Korea.
Expense Ratio: 0.74%
Risk/Reward
Overall, with all that South Korea has going for it, North Korea still poses the greatest threat to their future. North Korea is a wild card and must be taken into consideration when making your international investment allocation. That said - upside potential for this fast growing country looks positive.
Legal Disclosure: Investing in securities mentioned above involves a risk of loss
mosaic flag photo by Agent J