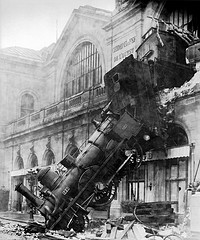 I'll warn you up front, the article The Inadequacy Of Our National Savings, appearing in the current issue of Financial Advisers magazine is a long one, but information you really can't ignore.
Our nation's retirement plan system is broken.
In his latest book, The Clash of the Cultures: Investment vs. Speculation, John C. Bogle refers to our current problem as a 'train wreck' - we don't have enough national savings in our retirement plan system.
In combination with too much spending and I'll-save-later attitudes prevalent in our society, many baby boomers are now going to have to face their reality - they can't afford to retire.
It comes as no surprise that, as Bogle puts it, "As a nation, we are not saving nearly enough to meet our future retirement needs."
Bogle's 7 Deadly Sins gets to the root of the problem in explaining why so many Americans are facing huge problems as they approach retirement. Please take the time to refer to the full article for details.
Deadly Sin 1: Inadequate Retirement Accumulation
Participant and corporate contributions have not come close to the appropriate target of 15% of compensation. Many have made a good effort, but it just won't be enough.

Deadly Sin 2: The Stock Market Collapse
Here are the numbers; the stock market dropped from $17 trillion in October 2007 to $9 trillion in February 2009. Although much was recovered and early 2012 saw the value back at $15 trillion - our nation's pension plans were hit hard and are in massive deficit.

Deadly Sin 3: Underfunded Pensions
Defined benefit pension plans of both state and local governments are in terrible shape. Most are expecting future returns of 7.5–8%, but with stock yields at 2% and the 30-year U.S. Treasury at 3%, those expectations don't come close.
Deadly Sin 4: Speculative Investment Options
As employees became responsible for managing their own retirement investments with littleto no guidance they were introsuced to the YOYO theory - You're on Your Own.
Deadly Sin 5: Wealth-Destroying Costs
Returns in the stock market represent gross returns. Investors receive returns only after the cost of buying and then trading them back and forth. Our financial system consumes 1-2% of that return so individual investors and pension funds receive only net returns, in the 4-5% range.
Deadly Sin 6: Speculation In The Financial System
I call it a casino, Bogle refers to trading activity as an 'orgy of speculation' that threatens the real economy where we save and invest. No one argues that in our current economic mess Main Street got dumped on by Wall Street.

Deadly Sin 7: Conflicts Of Interest
Check out what Lynn Turner, former chief accountant of the SEC has to say about the fact that conflicts of interest are widespread throughout our financial system.
As you may know I am a huge John Bogle fan, and although nothing I've read so far surprises me, I'm still always stunned when I am reminded of the chutzpah of the Wall Street titans and the policy makers who act with little to no regard for the little guy. As a financial planner and retirement expert, my goal in helping clients retire is, and has always been, to level the playing field so that the average Joe can navigate through the waist deep mess we are in - and to come out safely on the other side.
Photo credit http://www.flickr.com/photos/learnscope/